Link to main page of Freud
Sigmund Freud's biography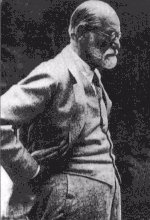 1856 Sigmund Freud was born on May 6, 1856 in Freiberg (Pribor), a rural town near Ostrau in northeastern Moravia. His father Jakob Freud (1815-1896) was a Jewish wool merchant from Galicia. Freud's mother Amalie Nathanson (1835-1930) was also Galician and Jakob Freud's second wife. Sigmund was the eldest son of eight children. There were two half-brothers of his father's first marriage, too.
1859 In October 1859 the Freud family moved to Vienna's "Leopoldstadt", or second district, where Sigmund Freud lived until June 1938.
1865 Sigmund Freud attended high school at "Leopoldstädter Communal-Real- und Obergymnasium" and took his "Matura" leaving exam in July 1873 (Vienna's second district, Taborstrasse 24)
1873 Registration at the Faculty of Medicine of the University of Vienna
1878 He changed his first name "Sigismund" to "Sigmund"
1881 In March 1881 Sigmund Freud obtained his doctorate in medicine. As early as from 1876 to 1882 he worked as a research assistant at the Institute of Physiology under Ernst Brücke, with neurology as his main focus.
From 1882 onwards he did his clinical practical at the "Allgemeines Krankenhaus" and became acquainted with clinical neurology. At the department of Dr. Scholz Freud intensified his knowledge in the fields of clinical neurology and neurological diagnosis.
1885 Habilitation for neuropathology
1885/86 One-year scholarship with Charcot at the "Salpetriere" in Paris
1886 On April 25 Freud opened up his first neurologist's office in Vienna, Rathausstrasse 7
1886 In September 1886 Freud married Hamburg-born Martha Bernays (1861-1951). The marriage was extremely happy and produced six children.
1887 Birth of his elder daughter Mathilde (1887-1978)
1889 Birth of his son Martin (1889-1967)
1889 Scholarship in Nancy, with Liébault and Bernheim: hypnosis studies.
Freud studied neurotic and psychotic behavior not evidently caused by organic disorders.
Up to 1891 the Freud family lived in the so-called "Sühnhaus" in Vienna, Maria Theresienstrasse 8. Emperor Franz had this house built on the grounds of the former "Ringtheater" destroyed by fire on December 8, 1881. In the course of this tragic event 386 people had been killed.
1891 Birth of Freud's son Oliver (1892-1970)
The Freud family moved to the house Berggasse 19 in the 9th Viennese District where they lived until 1938. Earlier Dr. Viktor Adler, the founder of Austria's Social Democracy, had lived in this flat.
1892 Birth of Freud's son Ernst (1892-1970)
1893 Birth of his daughter Sophie (1893-1920)
1895 Birth of Freud's daughter Anna, the sixth and last child (1895-1982)
1895 Publication of his studies on hysteria together with Josef Breuer
1895-1898 Five journeys to Italy
1896 Freud called his new therapeutical treatment psychoanalysis. He worked on this treatment's theory for forty years. For some time Freud was also the head of the neurological department of the "Erstes öffentliches Kinderkrankeninstitut" ("First public childrens' hospital") under Prof. Kassowitz. In his book "Zur Auffassung der Aphasien" he criticized the localisation theory of contemporary neuropsychiatry. His psychogenic standpoint in psychoanalytical theory was mentioned for the first time.
1900 Publication of the book "Traumdeutung"/"The Interpretation of Dreams" establishing Freud's fame
1901 Publication of "Psychopathologie des Alltagslebens"/"Psychopathology of Everyday Life" in which Freud studied the meaning of certain disorders. Journey to Rome.
1902 Freud is appointed associate professor of the Faculty of Medicine of the University of Vienna. However, his psychotherapeutic ideas were developed outside the university only. Freud dedicated his work extremely much time, held therapeutic sessions with patients (on his famous couch) up to 12 hours daily and wrote down his findings until three in the morning. Numerous lectures in Germany and Italy, participation in numerous psychoanalytical congresses in Budapest, The Hague and London.
1905 Publication of "Der Witz und seine Beziehung zum Unbewußten" und "Drei Abhandlungen zur Sexualtheorie".
1908 Founding of the "Viennese Association of Psychoanalysis" that had developed from regular meetings with his followers. "First Congress of Freudian Psychology" in Salzburg.
1909 Guest lectures in the United States, University in Worcester, Massachusetts
1910 Founding of the "International Association of Psychoanalysis"
From 1912 onwards publication of the "Yearbook of Psychoanalysis"
From 1913 onwards publication of the "International Magazine for Psychoanalysis"
1917 Freud comes out with "Lectures introducing psychoanalysis"
1919 Publication of "The International Journal of Psychoanalysis"
1920 Sigmund Freud is finally appointed Professor of the University of Vienna. Publication of "Jenseits des Lustprinzips"/"Beyond the Pleasure Principle".
1923 Freud falls ill with palatine cancer
1923 Publication of "Das Ich und das Es"/"The Ego and the Id"
1924 Freud is appointed "Citizen of Vienna" by the City of Vienna
1930 Sigmund Freud is awarded the Goethe Prize for Literature honoring his "clear and impeccable style". Publication of "Das Unbehagen in der Kultur"/"Civilization and its Discontents".
1938 On March 12 Austria is annexed by Germany. On March 13 the last meeting of the "Viennese Association of Psychoanalysis" takes place. On March 22 Freud's daughter Anna is arrested by the Gestapo and held in custody for a day. Friends of Freud can finally convince the 80-year-old to leave Nazi-occupied Vienna. He emigrates to London, 20 Maresfield Gardens on June 4 with his wife, his youngest daughter Anna, his housekeeper Paula Fichtl and his nurse Josefine Stross.
He sold the largest part of his library to a bookseller who sold it on to the New York Psychiatric Institute.
September 23, 1939 Freud dies of cancer in London
1971 Opening of the "Sigmund Freud Museum" in Vienna, Berggasse 19.
---
---
Copyright Austrian National Tourist Office
---